We offer 24/7 Emergency Service
We offer comprehensive Snow & Ice Management Solutions with 24/7 emergency service. When the snow flies & the ice arrives, we work tirelessly to ensure your property remains as safe as possible at all times. Whether you need commercial parking lots cleared, community roads and driveways plowed, walkways large and small shoveled, or de-icers applied, we have the equipment needed and the experience necessary to handle the job.
Using multiple 3rd Party professional weather services, we constantly monitor forecasts and conditions so you don't have to! We keep hundreds of vehicles in top condition, many prepositioned on locations throughout the region for quick and dependable dispatching. Employees are constantly notified of the ever-changing weather to ensure complete staffing and reliable service to our clients.
Proper planning, employee training & constant communication make our Snow & Ice Management unparalleled! An Apex Landscaping Client Representative meets with you before the winter season to discuss the unique needs and challenges of your property. Detailed site maps with specific service notes are then provided to all crews on every site. Our 'Weather Alert Emails' keep you informed of any forecasted winter weather events and our strategy to handle each and every storm.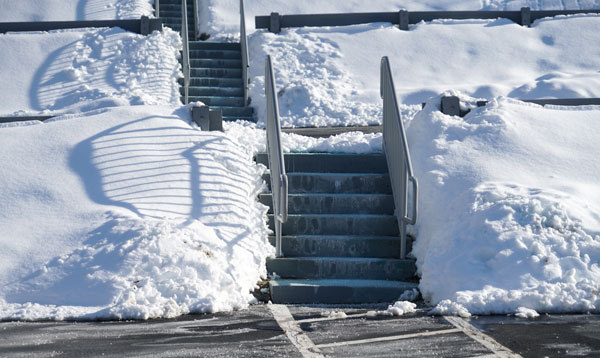 Our Snow & Ice Management services are counted on by property managers & business owners that need dependable and exceptional service to maintain a safe and accessible property throughout any winter weather event. Our equipment is GPS monitored, providing us with the ability to provide the current location and timing information on demand. Apex Landscaping only uses commercial-grade snow-fighting equipment and our staff is trained to operate to achieve efficient results, and your property remains open and safe.
"Hi! On behalf of everyone, I want to say thank you and great job with handling the snowstorm and ice control last night and into the majority of today. I've received several comments from homeowners raving about the great quality of the work, the smart management of the snow piles, and not needing to worry about access to doors and garages. Outstanding work on the entire property!
Please be sure to pass along this commendation to everyone on the crew who were on site throughout the storm and clean up throughout the day, it's very well deserved recognition for a job well done!
Thanks again for everything you and your staff do for us, we all appreciate it!"
— Ted B
We Value and Respect Our Customers and Employees